HTJ-1200 Universal Vertical Jack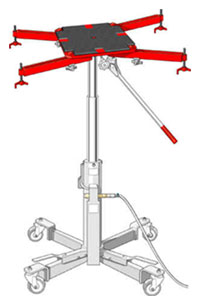 Heavy duty air/ hydraulic jack
...SO MUCH MORE THAN A REGULAR TRANSMISSION JACK...
Ideal for Replacement & Repair
Power trains
Engines
Sub frames
Suspension struts
Drive shafts
Electric Vehicle Battery Pack
Complete exhaust assembly
Heavy exhaust and components
Fuel tanks
Complete rear suspensions
Tow bar assembly
Doors
Many other workshop and body applications
ACCOMMODATES UP TO 12OO LBS
Application on complete engine and strut package.
Application on complete rear axle.

UNIVERSAL ATTACHMENTS FIT MOST VEHICLES ON THE MARKET
>> Click Here to view HTJ-1200 Jack Work Applications <<