Dataliner Products
---
With over 25 years experience in the manufacturing of automotive frame repair equipment, Dataliner® has earned their reputation as
"One of the Best".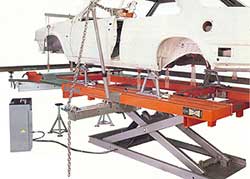 From the bench to the Laser Measuring Systems, Dataliner® has something for everyone.
And with the introduction of the new Spot Welder, Dataliner® has further strengthened their position in the marketplace.
Find the high quality Universal Vertical Jacks, Floor Jacks and the Express Puller manufactured by Nike Hydraulics in Sweden.
Now we are offering more auto body repair equipment from Dent Fix, such as tram gauges, spot weld drills, dent pulling stations, dent pulling claws and stud welding kits and more.
Take a look at some of the new products from CMO, the heavy duty Tool Cart, the Paper/Can Compactor and the new Service Car Lift.
Check out FASTRAX™, a quick and simple wheel alignment gauge.
Thousands of customers worldwide have invested wisely in Dataliner® products.

Now it's your turn!