11M Interactive Spot Welder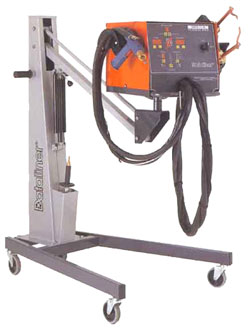 The Dataliner 11M Interactive spot welder assures strength, quality and confidence in all the repairs that you do.
This welder has many preprogrammed functions that will allow you to obtain a near perfect job every time.
An exclusive feature of the 11M Interactive machine is the ability to change tools from single sided welding to double sided welding and vice versa.
This procedure can be done without disconnecting any cable or modifying any setting on the display.
Not only does this welder perform single and double sided welds, it can perform many different types of dent removing, heat shrinking for high spots and metal retensioning of stretched panels.

TECHNICAL SPECIFICATIONS

WINDING: Copper
SUPPLY: 240V
ELECTRICAL BREAKER: 60 Amps, Slow
MAX WELDING CURRENT: 11,000 Amps
OPEN VOLTAGE: 6-10 Volts
WELDING THICKNESS:
Double Sided Gun 3+3 mm
Single Sided Gun 1.5 mm
CABLE LENGTH:
Double Sided Gun 2 m
Single Sided Gun 1.7 m
SETTINGS: Digital
TIME SETTINGS: 1/100 of a second
DOUBLE SIDED GUN: Air Operated

COOLING SYSTEM

DOUBLE SIDED GUN: Automatic Air Cooled
SINGLE SIDED GUN: Automatic Air Cooled
COPPER CABLES: Automatic Air Cooled
COPPER ARMS & ELECTRODES: Automatic Air Cooled
TRANSFORMER: Fan Cooled


SPOT WELDER ACCESSORIES

Extended Straight Arms & Electrodes, 350 mm or 500 mm ( Std. Arms 165 mm)

Rocker Panel Arms and Electrodes

Wheel House Arms and Electrodes

Tip Dresser to Sharpen the Spot Weld Tips

Small Angel Disc Grinder for Easy Access